Watch Greg Vinall talk about how he turned the hobby he loves into an automated income of over US$10,000 a month (AU$163,140 a year)…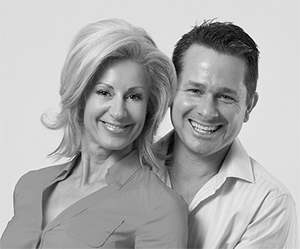 Andrew and Daryl are brilliant mentors. We have a passive income from a very successful membership site that we learned from them. Our membership program is designed around our education courses, which are eBay and importing. Once the work's done and it's set up we update the lessons each year. That makes us $180,000 a year and it's pretty much on autopilot. We set it up 4 years ago, and all we do these days is make sure the education is kept up to date. It's a fantastic model.
What's so great about membership sites? Well first up, they give you a "Subscription Income". In other words, you make the sale once, and customers keep paying you month after month.
At this event we'll show you how you can create a subscription income in just about any niche.
If you have a service business (where you're swapping hours for dollars) we'll show you how you can turn your expertise into regular lessons that customers will pay you for – with almost no time and effort from you once it's set up.
If you have a hobby or interest, we'll show you how to get people to pay you regularly for information or "consumables".
If you are able to solve a problem for someone, or help them get what they want, then you can create an automated income using our simple system.
Here's what others have said about our 3-day Membership Site workshop:
"I learned how to find a great idea that will work in a paid membership site to make a solid passive income. Daryl, Andrew and whole team were great and the info was easy and comprehensive. Very valuable info."
"I learned how to sell memberships even before spending much time or money. Lots of examples and case studies to learn from. Definitely attend the workshop – you'll be glad you did."
"I learned the essential ingredients needed to build a membership site and passive income. The workshop has 'planted a seed' about how to stop swapping hours-for-dollars. Definitely come along."
What's the Training Program about?
One of the most powerful things you can create in business is a subscription income – that's where you make the sale once, and the customer continues to pay you every month, automatically, for very little effort on your part.
Over the last 10 years we've developed and perfected a quick, easy system to generate subscription income in just about any niche.
Whether you're an existing business owner or a newbie, we can show you how a membership site can give you the security of a regular income every month.
We've taught our system to thousands of small business owners, entrepreneurs, professionals and hobbyists. Over the years we've honed and refined our system, and that's what we'll be showing you at the event.
Loved the clarity with which the information was presented. The information and the delivery was perfect! Just the right amount to not overwhelm. Thank you so much Daryl and Andrew. Your strategies have created an income that has replaced Heidi's job and changed our lives.
Over three days we give you our step-by-step process to set up and grow a membership site. We take you step by step through a simple process to build a successful online business. By the end of it, you'll know exactly how to create automated income online. And here's the thing – it's not rocket science! We break it down into simple, powerful steps so that by the end of the 3 days you have a clear plan to follow.
Outstanding info. I have great steps I need to action as a result of this weekend. Thank you both so much!!
And we'll have some of our students share their stories, about how they've taken the information you'll learn at the event, and turned it into profitable businesses. Inspiring stuff!
What's so great about membership sites?
There are lots of reasons we think membership sites are great. Here are just 6 of them:
They provide automated income. That means that you only need to make the sale once, and you continue to get paid every month
They create a long-term, sustainable business. Membership sites allow you to build a long term relationship with your clients. They also provide a more secure income, since you're not always having to find a new customer to keep the cash coming in
Quick to create. Using our system, we can create membership sites really quickly. In fact, we can go from "concept to cash" in just 3 days. We don't know of any other system that can generate an income that quickly
Creates a great foundation for an even bigger business. Because membership sites create a great ongoing relationship with your clients, provided you're giving great value, your clients are more likely to buy other products from you
Increases the value of your business. A business that gets subscription income is (on average) worth about 3-times more than a similar business that makes the same amount, but from 1-off sales. If you're planning to sell your business, then adding a membership site can increase the amount you get when you sell
More resilient business. A business with subscription income is stronger, and better able to cope with changes in the market. For example, if a large proportion of your income turns up automatically, then if one of your marketing strategies fails, it doesn't kill off your cash flow
When and Where is it?
The event runs for three days, on the 9 – 11 December 2016. Timing is 9:00am to about 6:00pm each day (depending on how many questions we get asked!). We also have a networking event on the Saturday evening where you get a chance to talk to us and other attendees one-on-one.
Because we take you through a step-by-step process over those three days it's important that you attend every session. You don't want to miss one piece of the puzzle!
You helped me see the potential through others' stories and achievements. The event was a great mix of teaching, testimonials, and question sessions. Thank you Andrew and Daryl for your generous gift of so much information. If you're going, make sure you can get to all 3 days, as each day builds on the one before.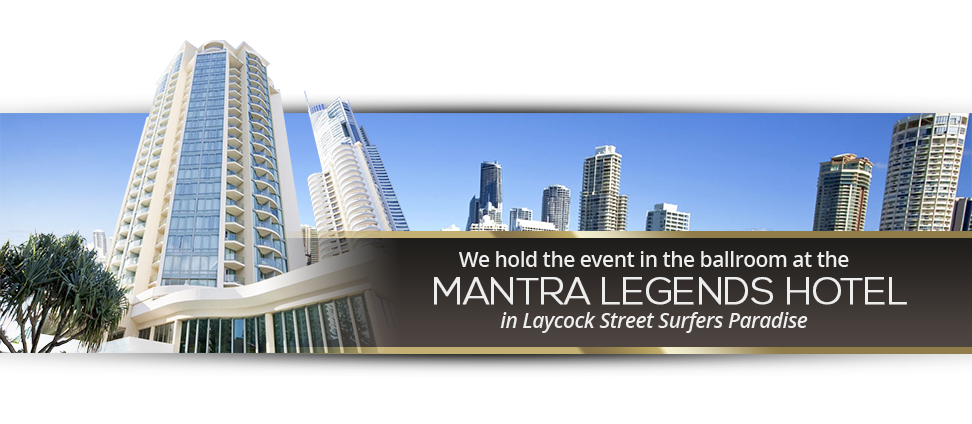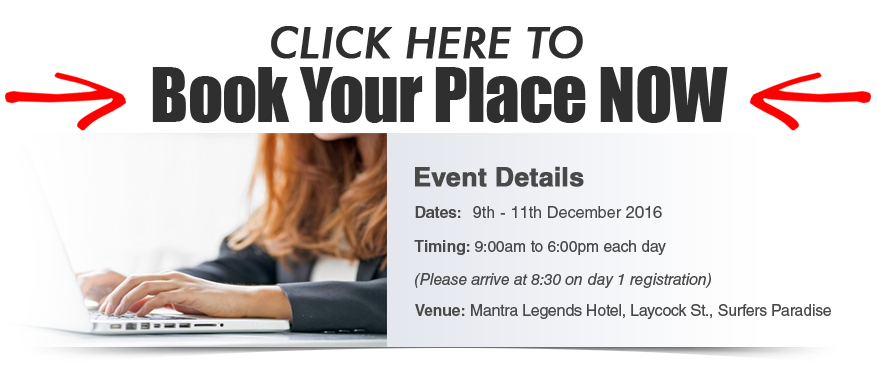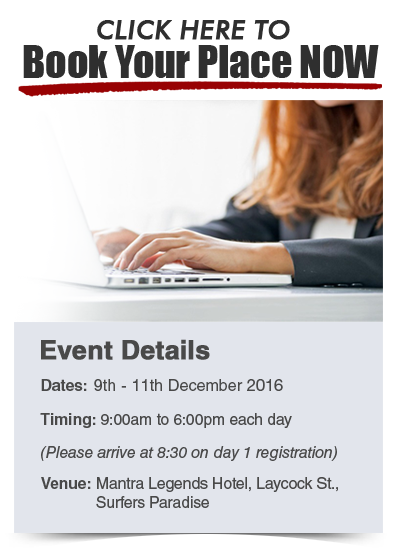 Who are you and why should I listen to you?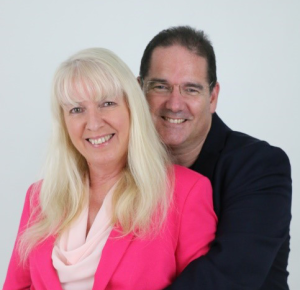 If you haven't met us before, we are a husband and wife team. We've being making money online for about ten years. Prior to that we worked as management consultants, solving problems for offline businesses and helping them grow.
Back when our first child was born, we set ourselves a 5-year goal to get out of our consulting business, since we were working pretty hard and exchanging hours for dollars. For the first four and a half years we tried everything! We went to every event we could find. We did property renos, share trading, forex trading, and more. We found that, while they all made money, none of them was actually passive. We were working harder than ever! It wasn't until we discovered how to create an online business that things really started to change for us. Within 3 months we'd made our first $5,000 in automated income. The next month we made over $17,000.
In total in our first year we made US$250,000 in automated income. We were hooked! And we achieved our 5-year goal of stopping consulting – on the exact day that we had set 5 years earlier. How's that for the power of goal setting? The good news for you is – it actually took us only 6 months once we learned the system. And that's what we're going to share with you at this event.
We've since gone on to create a multi-million dollar online business (actually a lot of smaller businesses – we believe in having multiple streams of income), that pretty much run on autopilot. Most of our income comes from membership programs. We have a fantastic team of people around the world that help us with the business. We've achieved a few more goals now too: we live in beautiful Thailand, we home-school our kids, and we travel heaps!
These days we love sharing what we've learned, and watching other people's lives change as a result. We're looking forward to seeing you at our event and giving you our keys to membership site success.
These people are genuinely here to help and inspire you to create a better life.
Please note: Just because you attend the training, we don't guarantee you'll get the same results as us. Not everybody who attends our training will be successful. Far from it! There are many people who attend our training and implement nothing, and as a result, they get nothing (except the information we provide). However, there are many people who attend our training who have applied the information and been successful – many of them more successful than us. There are some examples below.
Who is the training suitable for?
You'll learn lots from this event if you fit into any of these categories:
You have an existing online business and you'd like to add an automated income stream. You're maybe going OK, but you're either locked in to selling your time for money, or you're selling physical products which of course have inventory and storage costs. You hear stories of other people making millions online from subscription income, and you want to know how to "crack it" yourself. You have a few gaps in your knowledge and you find it hard to stay up to date with the endless changes that happen online.
You haven't done anything online before but you'd like to learn how to create an automated income. You feel a bit overwhelmed by the idea of learning a new system with all new jargon, but you know that you're missing out on big opportunities if you don't give it a go. You're maybe a bit nervous about "what if it doesn't work? I don't want to waste a lot of time, and I have friends and family telling me that's it's just a scam"! (We know, we got that too when we first started!). You may not even have a clear business idea. Or you may have an idea but you're not sure if it's a goer.
You have an existing offline business and you know you need to improve your online presence with a membership site. But you're so busy running your business you don't have the time to stop and learn, or go through all the trial-and-error to figure out what's going to work. You're concerned that you're going to be left behind because you're not doing all the latest stuff, and you feel overwhelmed and just plain tired at the thought of adding "something else" to your already busy life.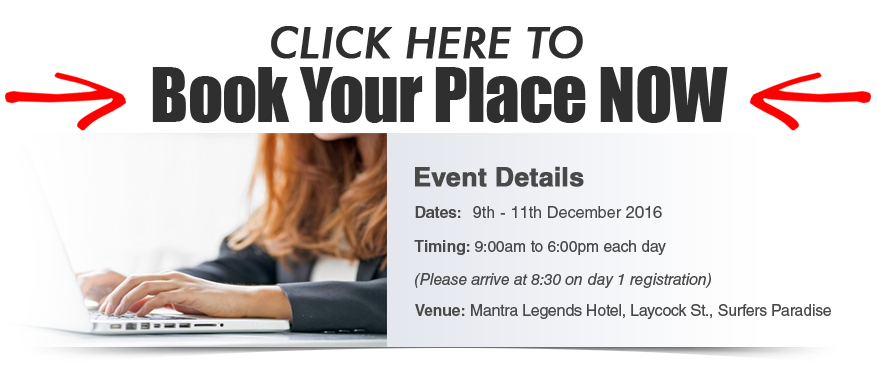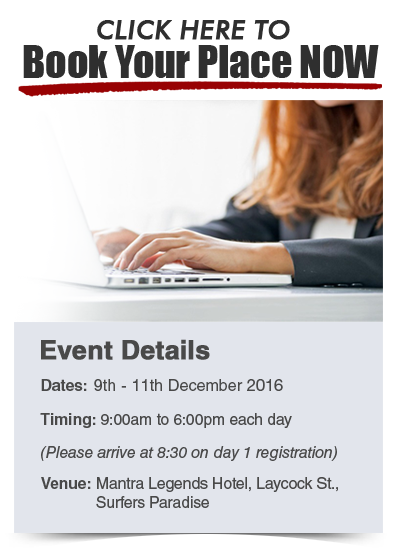 What's different about your training?
Lots! Here are the main things we do differently from other events we attend (and we've attended hundreds of events over the last few years!):
The 3 days cover a step-by-step process to create a membership site. Each session follows logically from the one before. It's not a set of random, 90-minute sales pitches.
Loved the step-by-step processes for everything – building lists, selling to them, how to create and sell memberships, etc, etc. The weekend info is invaluable.
I loved the amount and level of detail you gave on the step-by-step process in building an online business easily. Learned about the 2 best business models, and the steps to develop them. Helpful ways to find and research a niche. Testing if an idea is sellable using Facebook and opt ins. And how quickly you can generate an income with membership sites.
Our teaching is clear, logical and simple. Because of our management consulting backgrounds we know how to get our ideas across in an easy-to-understand, systematic way.
Very informative. Would not hesitate to recommend Andrew and Daryl. Simple and effective. No tech Jargon
I loved that you didn't make it sound too difficult – you gave lots of step-by-step instructions.
It's not a "sales-fest". We make one main offer, and that's to have a 1 hour conversation with us after the event. We don't invite you to "run down the back because there are only 7 of these and you need to be quick". If you're going to work with us then it needs to be the right decision for all concerned.
I enjoyed your open sharing of knowledge and experience. Also liked the fact that it wasn't a "sell, sell, sell" event.
We invite lots of our clients to get on stage and tell you what they've achieved. Yes, some of them are very nervous because it's the first time they've spoken from stage. But they are willing to overcome the nerves if it helps and inspires you to change your life. Generally they were sitting in the audience at a previous event, and were inspired by someone getting up and telling their story. It's their way of "paying it forward", and helping us change more lives!
It was great to see lots of people being successful online and growing.
I loved seeing what normal people have achieved. You don't need to have a degree, as the real people's success stories showed. It really is possible, and can change my life.
We don't tease you with a little bit of information and then ask you to buy something to get the real stuff. We've had people take what they've learned at our events and make money from them immediately. Without buying anything. Some have turned the info into a few hundred dollars, others into millions. We will share some of these examples with you at the event. We give you practical, easy-to-implement strategies that you can take home and apply straight away.
Since attending the last workshop with you I have implemented a few strategies and I'm now earning $120,000 per annum, starting from zero. Thank you!
The workshop was genuinely a gift. Thank you! It was the most comprehensive weekend I have been to.
We're not so much into Ra-Ra. It's just not our style. We won't be asking you to raise your hand every 7 seconds. We won't expect you to dance, or stand on your chair and shout affirmations to the universe. Feel free to do those things at home. We DO want you to be excited by what you're learning, by the possibilities, and by how your life can change as a result of the weekend. We DON'T want you to be artificially hyped up and lose momentum as soon as you get home. We teach the way we like to be taught – with clear, simple steps of a proven, successful system, and the opportunity to ask questions.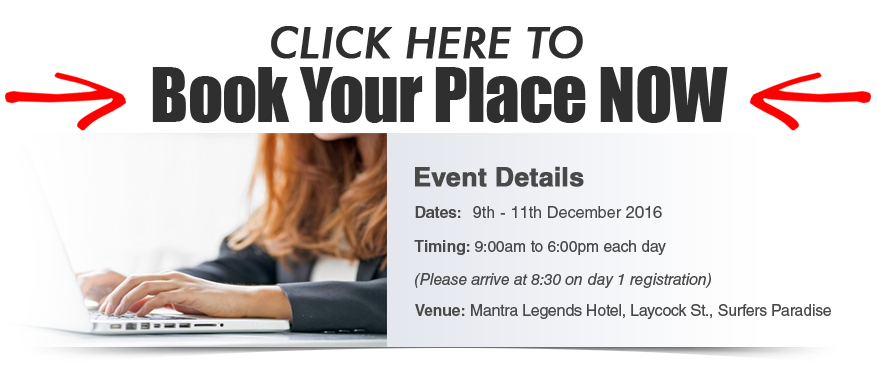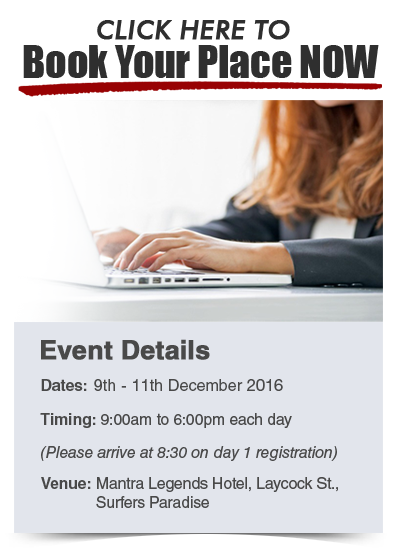 Exactly what are you covering?
Over the three days we walk you through the process we use to build a successful membership site. We show you:
Our easy, proven system to create a subscription income from membership sites – one that happens on autopilot once you've made the sale.
How to identify a lucrative topic. Not all topics work for membership sites. Our 8 point rating system (based on our experience building hundreds of membership sites) tells you at the outset whether your idea's going to be a winner or a dud.
How to create world-class content quickly and easily. Using our system you need only create a small amount of content each week. We'll show you how to get that done in just an hour or so a week.
How to "sell it before you build it". Using this clever technique clients of ours have created an income from scratch in as little as three days. PLUS – we'll also show you an example of a membership site we took from concept to cash in just 30 minutes!
How to market your membership site so it grows quickly. With just 200 members at $49 a month, you'll be generating $9,800 a month in automated income. You'll learn the quickest, most effective marketing techniques.
Membership sites make a great platform for selling high-priced programs, such as coaching or consulting. We'll show you how to use your membership site as the foundation for a great 7-figure business. We've used and taught this strategy to grow over 40 new businesses in the last 5 years.
Loved learning how to monetise quickly. Wonderful 3 days learning about different business models and how to implement them.
You showed me how I can stop trading hours for money. You opened my mind to the possibilities. Time very well spent. Enlightening experience. Andrew and Daryl, thank you so much for providing a new way to look at solving a situation I have been dissatisfied with for so long.
What are you selling?
At the event we make one main offer for those who would like to continue their training with us. We have a program where we coach and support you to create your own membership site, and if you'd like to be considered for a place in that program (these days we only take a handful of clients a year), then we ask you to fill out an application form. We talk to you the week after the event so we can jointly decide if the program will suit you. We're not into hard-sell. We're not cheap. We DO get results. 'Nuf said?
What if I have other questions?
We'd love to hear from you! Shoot us an email or go to our Facebook page. Links are at the top and bottom of this page.
How do I book?
Any of the "Book Now" buttons on the page will take you to the registration form. Please double check the spelling of your name, as this is what will appear on your name tag.
If you'd like to bring a friend then you can register them after you have registered yourself and hit the "Submit" button.
If you are bringing more than one person that's fine. Simply come back to this page and repeat the booking process by clicking on one of the "Book Now" buttons, and then adding the extra people.
Even though the event is free you do need to be registered to gain entry.
Look forward to seeing you there!


I loved Daryl and Andrew's integrity and genuine interest to help others succeed. There was also a healthy dose of humour interwoven. I got a whole lot of new tips. But more than anything you inspired me to take action more quickly. You guys know your stuff. You provided lots of proof that your systems work. Extremely well presented. If I had started with you guys 3 years ago I would have spent a lot less, and would already be financially free. Thanks guys, you kicked my butt! Going home with renewed enthusiasm and motivation to implement. As a trained teacher with 30+ years experience – trust me, you are excellent teachers and I can't fault your instructional design. Succinct and effective! Well done, loved every minute!
Excellent content, well presented. Very valuable – content can be applied straight away. It was great. Many thanks!
Great overview and step-by-step info to follow. Online marketing is not about trying to manipulate Google, it's about providing great content and value. I really enjoyed your clients' stories showing what's possible. Great information, well worth the time, and no hard selling.
Fantastic course. Very giving. Great information!
Here are some more comments from past attendees:
DISCLAIMER
The testimonials on this website are from real and satisfied clients. However their results may not be your results. Specific results can not be guaranteed and results may vary from person to person